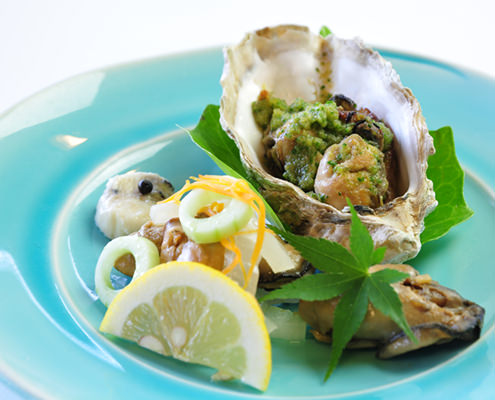 Oyster ship Kanawa
Japanese style bar "Wakyu bar" is located in ekie BAR zone. Before taking transportation, during your stay in Hiroshima, after your business; in any kinds of occasion, you are always welcome to stop by and have our delicious Japanese Seto Inland-sea oysters, and lite meals, with our selected alcohol beverages (it goes excellently with our meal). To wash down with our selected alcohols starting with sake.

Japanese oysters are at their best in late winter and early spring when you will find many events and festivals in Hiroshima celebrating these prized delicacies. Kanawa, however, has its own supplies fresh all year from a top-secret, private reserve location.
Kanawa has started the oyster cultivation business since Keio three years (1867), and since then has offered only raw snacks that can eat raw. We have cultivated our basic philosophy since our founding. It is good for your body and that you must be fresh and safe genuine.
The freshest oysters from the "Kanawa raft" located in the Seto Inland Sea near Ohkurokamijima. The oysters come from clean water that meets the strict standards of Hiroshima Prefecture. Ask a staff for more details.